Posted by Johann Nacario — October 1, 2023 — Allengra, a company specializing in ultrasonic flow metering technology, recently launched its latest range of Alsonic ultrasonic flow meters at ISH 2023 in Frankfurt, Germany, sparking a lot of interest among visitors. This new range of flow meters causes almost no pressure losses and offers several critical features including gas bubble and glycol concentration detection.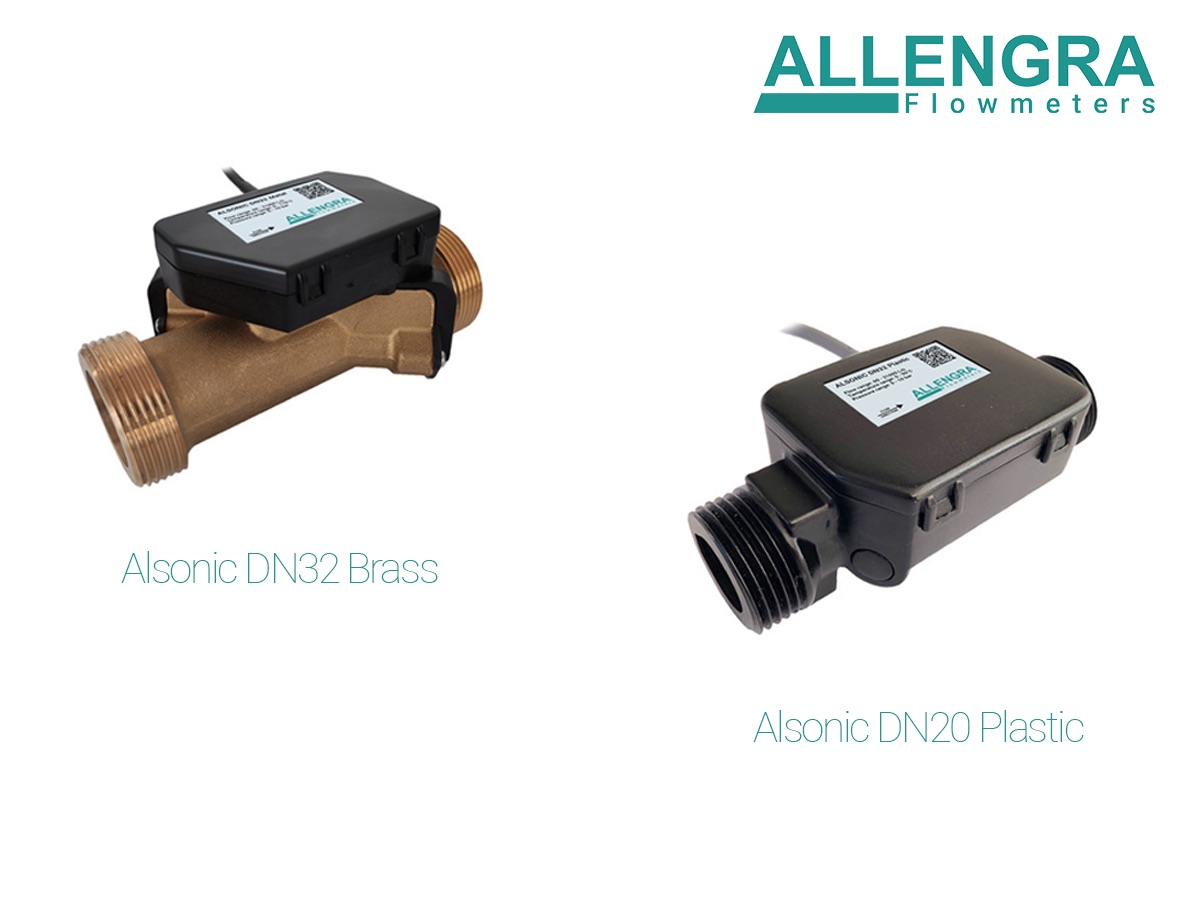 Allengra's Alsonic range can be tailored to meet special requirements. The Alsonic flow meters have a modular design, allowing them to be customized, with a range of dimensions available from DN15 – DN50 and in brass or plastic (PPS) materials. These customizations include external temperature sensors for heat metering or an integrated pressure sensor. They are suitable for a variety of industries and applications, including heat pumps, gas boilers, fresh water/flat stations, solar systems, fuel cells, building monitoring and other industrial applications.
One key advantage lies in the low-pressure losses and high measurement dynamics, meaning small and large volume flows can be reliably measured with the same sensor. By minimizing energy consumption and improving efficiency, the Alsonic flow meters ensure that systems maintain optimal performance, providing a reliable solution for optimizing energy usage.
Gas in heat pump systems can cause efficiency issues and even fire risks due to flammable refrigerants. To prevent these problems, the Alsonic range offers a reliable and accurate gas bubble detection system. This feature detects any potential leaks in the heat exchanger or air in the heating system. The detection of leakage is particularly important when using flammable refrigerants, as there is a risk of fire. When it comes to heating systems, the detection of air can improve the system's efficiency or initiate automatic venting programs and maintenance. Overall, the ultrasonic flow meters provide an added layer of security and ensure effectiveness.
Another benefit of the Alsonic range is its ability to detect glycol concentration. Glycol is commonly used in many applications such as heating, ventilation and air-conditioning systems. It helps prevent water from freezing and damaging the system, especially during cold temperatures. The Alsonic flow meters can measure glycol concentration, give a freezing point estimation and compensate for the different flow behavior of different glycol concentrations allowing precise control of the system and optimal performance.
Moreover, the Alsonic flow meters are ideal for building monitoring and hydraulic balancing of the heating and drinking water system. By providing accurate data, these flow meters help building systems operate at peak efficiency securely and meet high cleanliness and safety standards. As mentioned before, the flow sensors of the ALSONIC range feature integrated heat metering, which supports hydraulic balancing of heating and freshwater systems. With the ability to precisely monitor and control water flow, temperature and pressure in one device, the Alsonic range supports hygienic water usage, making it a valuable tool for building managers and maintenance.
Find out more about Alsonic ultrasonic flow meters at Allengra.
*DEUTSCH*
Allengra, ein auf Durchflussensor-Technik spezialisiertes Unternehmen, hat kürzlich auf der ISH 2023 in Frankfurt die neueste Durchflusssensor-Serie Alsonic vorgestellt und damit großes Interesse bei den Besuchern geweckt. Diese neue Baureihe von Ultraschall-Durchflussmessern verursacht nahezu keine Druckverluste und bietet mehrere Funktionen, darunter die Erkennung von Gasblasen und Glykolkonzentrationen.
Die Durchflussensoren der Alsonic-Reihe von Allengra können auf spezielle Anforderungen zugeschnitten werden. Die Alsonic-Durchflusssensoren sind modular aufgebaut, so dass sie kundenspezifisch angepasst werden können. Sie sind in einer Reihe von Abmessungen von DN15 bis DN50 und in Messing oder Kunststoff (PPS) erhältlich. Diese Anpassungen umfassen externe Temperatursensoren für die Wärmemessung oder einen integrierten Drucksensor. Sie eignen sich für eine Vielzahl von Branchen und Anwendungen, darunter Wärmepumpen, Gasheizgeräte, Frischwasserstationen, Solaranlagen, Brennstoffzellen, Gebäudeautomation und -überwachung und andere industrielle Anwendungen.
Ein wesentlicher Vorteil der Alsonic-Serie liegt in den geringen Druckverlusten und der hohen Messdynamik, so dass kleine und große Volumenströme zuverlässig mit demselben Sensor gemessen werden können. Durch die Minimierung des Energieverbrauchs und die Verbesserung der Effizienz stellen die Alsonic Durchflusssensoren sicher, dass die Systeme im optimalen Leistungspunkt arbeiten, und bieten eine zuverlässige Lösung um Energieverbrauch zu optimieren.
Gas in Heizungssystemen kann zu Effizienzproblemen und sogar Brandrisiken aufgrund von entflammbaren Kältemitteln führen. Um diese Probleme zu vermeiden, bietet ALSONIC ein zuverlässiges und genaues System zur Erkennung von Gasblasen. Diese Funktion erkennt mögliche Lecks im Wärmetauscher oder in der Luft des Heizsystems. Die Erkennung von Leckagen ist besonders wichtig, wenn brennbare Kältemittel verwendet werden, da Brandgefahr besteht. Bei Heizungssystemen kann die Erkennung von Luft die Effizienz des Systems verbessern oder automatische Entlüftungsprogramme und Wartungsarbeiten einleiten. Insgesamt bieten die Alsonic-Durchflusssensoren zusätzliche Sicherheit und gewährleisten Effektivität.
Ein weiterer Vorteil der ALSONIC-Reihe ist die Möglichkeit, die Glykolkonzentration zu messen. Glykol wird in vielen Anwendungen wie Heizungs-, Lüftungs- und Klimaanlagen verwendet. Es verhindert, dass Wasser gefriert und das System beschädigt, insbesondere bei kalten Temperaturen. Die Durchflusssensoren von Alsonic können die Glykolkonzentration messen, eine Gefrierpunktschätzung abgeben und das unterschiedliche Durchflussverhalten verschiedener Glykolkonzentrationen kompensieren, was eine präzise Steuerung des Systems und eine optimale Leistung ermöglicht.
Darüber hinaus sind die Alsonic Durchflusssensoren ideal für die Bauwerksüberwachung und den hydraulischen Abgleich des Heizungs- und Trinkwassersystems. Durch die Bereitstellung genauer Daten tragen diese Durchflussensoren dazu bei, dass die Anlagen in Gebäuden mit höchster Effizienz arbeiten und hohe Standards für Sauberkeit und Sicherheit erfüllen. Wie bereits erwähnt, verfügen die Durchflusssensoren der Alsonic-Reihe über eine integrierte Wärmemengenmessung, die den hydraulischen Abgleich von Heizungs- und Frischwassersystemen unterstützt. Mit der Fähigkeit, Wasserdurchfluss, Temperatur und Druck in einem Gerät präzise zu überwachen und zu regeln, unterstützt die Alsonic-Reihe die hygienische Wassernutzung und ist damit ein wertvolles Hilfsmittel für Gebäudemanager und Wartungspersonal.