By Konkana Khaund, Frost & Sullivan Principal Consultant— The evolving trends in the buildings industry are prompting a slew of new paradigms to congregate within its ever-expanding domain. Over the last decade new technology, trends, terminology, positions and operational dynamics have consistently made their way into this industry. The industrys ever-growing attempt to keep up with such changing dynamics have paved the way for pockets of thought leadership to emerge and engage in their respective ways to help make sense of this fast evolving landscape. The Realcomm-IBCon conference has over the years become synonymous with the nurturing and propagation of such thought leadership. In its seventeenth year now, the 2015 Realcomm-IBCon conference held in San Antonio, Texas from June 8 to10, proved to be a consistently growing event for all involved in the fast changing landscape of commercial connected real estate. The collocated IBCon event, representing all aspects of smart buildings certainly expanded in scope and agenda this year. This years event, attended and covered by Frost & Sullivan, represented a lively culmination of knowledge, connections and continued dialogue for key issues impacting this industry.
Smart Themes Dominated the Sessions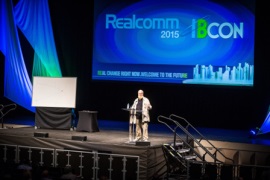 The emphasis this year has been explicitly pronounced smart, fast, big data, analytics, Internet-of-Things (IoT), IT and operational integration these themes dominated the 3-day event with numerous sessions covering different aspect of these topics and more. Particularly prominent were sessions on asset and operational management that delved into leveraging the use of software platforms for faster and smarter asset management. With the advent of cloud computing, mobility, data analytics, visualization and the trend to automate the front office, the industry now has a new and very powerful suite of mature technology tools. These sessions offered attendees an executive level overview of activities in the real estate information management business over the last year and offered insight into the status of traditional companies and a multitude of new entrants.
Deliberated over multiple sessions was the impact of IoT on smart building portfolios, the future of leasing that investigated the potentially mutually exhaustive relationships between brokers and the Internet, and using technology to effectively communicate with tenants. Particularly interesting was the discussion on the next wave of information tools expected to automate the leasing process, aspects that they will automate and the potential impact on the market.
Making Sense of the Tech Reality
Technology, for a number of years, has been steadily changing the landscape of how we design, construct, lease, operate and use commercial real estate. In the last three years, the growth of innovative new ideas, concepts and products that could radically reshape our industry has grown exponentially. There are major new tech paradigms such as mobile, cloud, immersive, IoT and others, that will fundamentally change how we operate and use commercial space. From reduced space requirements to online and mobile shopping, a dedicated session on tech reality made a concerted attempt to quantify these new trends and offered insight into how they will continue to change commercial real estate.
Cybersecurity A Key Disruptive Trend
Big data and analytics took front stage in a few sessions, with particular emphasis on the issue of cybersecurity. With the need for data to be turned into useful information, the smart buildings industry has witnessed a significant rush of dashboard tool providers that are offering cloud-based solutions for various data-driven needs of building customers. However, with frequent infiltration of third parties and exfiltration of data for analytics and predictive optimization purposes, todays smart buildings have been turned into vulnerable entities with cyber risks being a key underlying factor. The event saw dedicated sessions and educational groupings that discussed this emerging disruptive trend with earnestness. Resolutions offered encompassed a wide range of elements from secure systems and device development initiatives to stronger end point security needs, and OT and IT network separation to manage and minimize risk profile.
Traditional Topics Provided a Good Balance
However, the event did feature a good balance of traditional topics including fault detection and diagnosis (FDD), energy efficiency versus comfort, alignment of sustainability with energy, IT and facilities to name a few that attracted good discourses on these ongoing pain points of the building industry. And most sessions were enriched with real world demonstrations and campus case studies that further helped to elucidate the arguments raised in their favor. Technology and automation has led to a radical shift from reactive to proactive facility operations. Today's facilities team utilizes sophisticated systems, know when the problems occur ahead of time and can prioritize the response accordingly. For those involved in facilities management these sessions offered well-rounded updates on what lies ahead for automated facilities management.
Role of BIM in Operations
An important discussion around the adoption of Building Information Modeling (BIM) commanded good interest from the audience. The opportunity for building operations in leveraging BIM has been a topic of interest for the industry for a considerable time now, since the wide adoption of BIM in design and construction have proven quite beneficial. From its current role in improving capital project development to providing longer-term impact in building operations, the session discussed the role of BIM, supported by live examples.
Emerging Concepts
And finally the event encompassed forward-looking concepts of smart security technologies including advanced facial recognition, in-motion identification, incident awareness, mobile phone traffic analysis, sensors that are making their way into our buildings and campuses. This session showcased global innovations in next-gen building security solutions. And where most building related conference continue to revolve heavily around operational efficiencies, IT and energy, it was a welcome addition to see smart water as a key topic of discussion. Using automation and innovation to achieve efficiency and conservation in our buildings was discussed over a session that delved into how basic instrumentation applied to water infrastructure in a building allowed for better monitoring and management of this precious resource.
Closing Remarks
Overall it is hard to ignore the strong domination of technology-heavy themes this year. Perhaps the event could have incorporated some more demonstrations cases and considered the inclusion of more operation-led themes. However, given the limitation of time and opportunity, it was an impressive line-up of agenda, content, and a steadily growing base of attendees that made the 3-day event come alive. Expanding attendance of corporates, governments, though leaders, new entrants and all others involved in this industry made it evident that the event has indeed become synonymous with everything that the smart, connected commercial buildings space has come to represent.