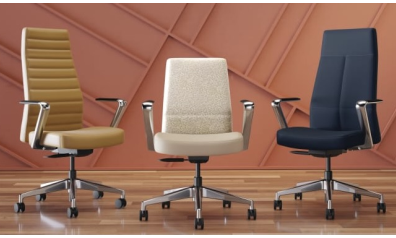 by Eileen McMorrow — June 28, 2022 — Cofi conference seating achieved what it set out to do. The Best of NeoCon 2022 jury declares that it makes a great first impression — and that was among the goals for The HON Company when it contracted its design brief to Brian Kane of Kane Design Studio, San Francisco.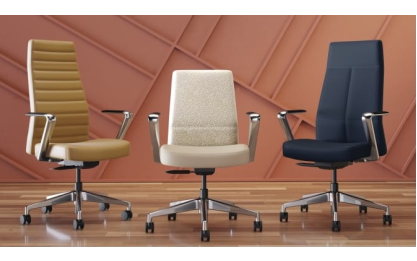 Kane commented:
We wanted the design (of Cofi) to have a classic modern form, with the kind of quality and detailing that you would find on a beautifully crafted handbag or briefcase. Through its tailoring, slimness of form, and high quality elements — like polished aluminum arms and base — Cofi is an elegant and classic solution for exceptional seating needs.
Through its tailoring, slimness of form, polished aluminum arms and base, Cofi conference seating's crossover design aesthetic allows it to work in the office as well as the home, appealing to both men and women.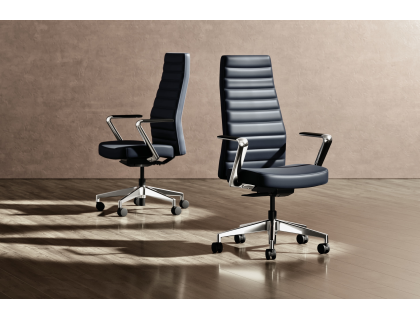 Available in executive (high-back) and managerial (mid-back) heights, Cofi is designed to fit into any conference or meeting space throughout the office. With three user-friendly control options, it provides smart support and the comfort no matter how long the collaboration continues.
The BIFMA Compliant chair is engineered to be easily disassembled and recycled at the end of its functional life.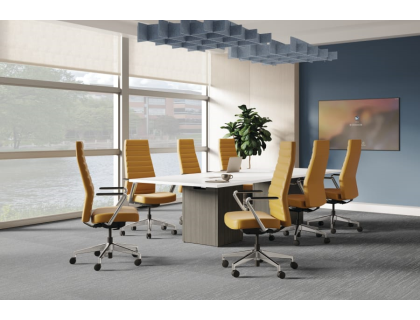 The Best of NeoCon jurors for Conference Seating commented:
Successful results: Finish options; lead times; price; high-and mid-back options; stitching + contrast options.

Sustainability practices were presented very thoughtfully/in detail

The details for for the backs on the low-, mid- and high-back are nice clean forms. This is an attractive chair that is comfortable to sit in at a great price point.

Appreciate that it's made in Iowa — in the U.S.

Comfortable for use in conference rooms and executive offices.

Could be enhanced for further success: Even further concealed chair adjustments.

This is truly an aspirational product and a great step for HON. Great design, construction and price point! It makes a great impression!

Beautiful product with a price point that makes the product specifiable for so many. Every space deserves a beautiful conference chair and you have made this possible. Well done!

This high-back executive level chair was very comfortable. Economical price and sustainable product with the use of co-mold and excess fabric being repurposed for truck liners.
To find out more about Cofi executive and conference seating, visit the HON Company website.