May 2020 — In the wake of March/April 2020, COVID-19 triggered a heightened awareness among human contact and sanitation measures, as well as the sudden financial implications to the business model. This fury has supercharged companies in evaluating/re-evaluating 'organizational sustainability' to address both immediate recovery strategies and the sequential phases thereafter.
Coworking as a Strategy: Temporary and Permanent
Prior to the virus outbreak, a broadening movement was occurring among a few organizations who were eagerly exploring alternatives for their workforce's workplace. In 2019 Inc. reported organizations such as Microsoft, Salesforce, Starbucks, and Bank of America had 'merged the use' of coworking facilities into their workplace strategy in Five Reasons More Companies Are Using Co-Working in Addition to Their Traditional Office.
For some companies the coworking model integration was never intended to be permanent; but merely 'a layer in agility' that buys time till the next economical/business shift would emerge. For instance, a few years ago while Grubhub was 'scaling up their workforce' in Philadelphia, they had contracted out to a locally owned coworking facility. Now that the workforce has grown, Grubhub shifted strategies to be structured under one roof within their own facility. When shared space facilities become an extension of the organization on an 'as-needed' basis, 'temporary use' seems to be a growing trend. Temporary circumstances like 'surge space', 'think-tank space', etc. has been the incentive for the FM to explore the idea of using coworking facilities as an optimal solution.
Coworking + Work From Home (WFH)
Some clients lease only meeting spaces (in coworking facilities) to support their corporate WFH programs. Allowing teams to congregate together as often as needed before disbanding back to their home offices.
Richard Myers, co-founder of alternawork in Canada, experienced clients using alternawork's facilities in many different capacities. From a temporary strategy as an interim solution, to conventional long-term residencies. Additionally, some clients lease only meeting spaces to support their corporate Work From Home (WFH) programs, therefore allowing teams to congregate together as often as needed before disbanding back to their home offices.
As a real estate veteran, Myers notably shares coworking/serviced space offers a "sense of identity as a centralized office for regional work". Furthermore, "working from home may not be a long-term viable option for some", as issues with limited bandwidth and acoustics arise. Some may even learn they miss their corporate life opposed today in/day out with the family, discovering a need for a corporate community is still quite relevant.
Changing the Model, Why?
Changing the Model, Why? 'Organizational stability.' COVID-19 has accelerated this focus, along with many factors that have immediately transformed into creating a new workplace model. Immediate questions beginning to be flushed out include, how long are these patterns expected to last and what about the new ones?
Remote Work
From preliminary survey findings: "Also, over 70 percent of people who had never worked from home before COVID-19 would like to work at least one day a week remotely in the future. This will have a significant impact on the space requirements of organisations."
Jan Jaap Boogaard, Head of Colliers Workplace Advisory
for Europe, Middle East and Africa
Even though it is impossible to know the answers, a variety of news sources are indicating that 'remote work' specifically the Work From Home platform may continue to have longevity in the near future. Colliers had launched their own survey (concluded in April), with some very surprising initial discoveries. Learn more here.
Integrating an agile workforce strategy has never been so important as it is now with what we've experienced, especially if/when the horizon includes more disruptions. With remote work being absorbed as a by-product of strategy, FM's can eye coworking facilities through multiple advantages rather than merely centralizing a remote workforce. This includes the ability to deploy/retract square footage quickly, as well as streamlining some facility management activities.
Serviced Office/Coworking Definition
In the 'space as a service' perspective, shared-space companies are technically defined differently: serviced office and coworking facilities. Yet the terminology has been blurred by many, and now it's often simply referred to as just 'coworking'. The serviced office industry has been in existence since the 80s, while the coworking style of space surged once WeWork was born/implemented. Historically, the 'serviced office model' typically complies more readily with a FM's direction in 'integrating individual client culture into this shared space facility', and lease terms usually begin at 1-year agreements. And often a little easier to 'secure a larger volume of space' that is sanctioned away from other clients; yet still sharing common areas (kitchen) with others in this hospitality setting.
FM Role
In this next era, the FM's role will contend to keep pace with all the factors that are systematically driving change. Not only with the 'evolving workforce and organization', but also in our leaner, faster, smarter world. This continuous adaptation of understanding has made it clearer why the serviced office/coworking model is most attractive. Essentially lightening the burden for some FM responsibilities, and therefore giving way to exploring and experimenting while steadily addressing leaner efficiencies accommodating the organizational model. What becomes necessary of this skill set? WE member Chris Hood explores the future of the FM role more extensively in his June 2019 article: Will facility managers still exist in 2030?
Workplace of the Near Future?
As we begin to imagine the different possibilities for 'place' that define the office, hybrid solutions between traditional workspaces and remote locations seems to be the direction that experts are gravitating towards. The probability for growth in this rapidly widening gray area most likely will continue once we resume some resemblance of a new normal through movements in workstyle/lifestyle.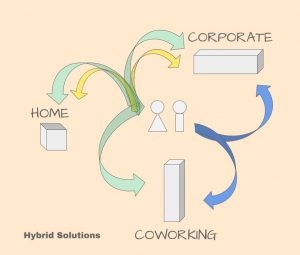 What might we envision? Smart Workplace 2040/The Rise of the Workspace Consumer was a study completed in 2015 by Kjetil Kristensen and Dr. Marie Puybaraud for Johnson Controls. The narrative explores the "adaptation of the service model to meet the expectations of future users" according to Dr. Puybaraud while "rethinking the working environment". In this YouTube video the co-author highlights key components in the full report.
Bridging 2040 to now, JLL has recently published How Covid-19 is Driving New Workplaces and Workforces as an insight for the organizational model with what is unfolding. Dr. Puybaraud, Global Head of Corporate Research at JLL considers "many believe these new ways of working are here to stay. It means there'll be more focus on performance both in terms of human output and workplace metrics through high quality data."
Now
Continuing to "rethink the work environment" presently, and in months/year(s) ahead; we have learned the 'connection to place' is not merely just about the physical built asset. With technologies established, the social ability to effectively 'connect' while working remotely has surged for many. However, for others this present displacement has been a hindrance.
Consequently HR/Team Leaders are quickly sifting through those who are integral to the immediate placement back to the corporate facility, while calculating those who can remain remote for a while to ease into a 'phased new normal'. "It's too early to say what this new norm will look like", workplace strategist Glenn Dirks shared; "however, there will certainly be a much closer alignment between employees' work requirements and preferences with the workspaces, technology and team protocols made available to them in the future."
Strategy/Journey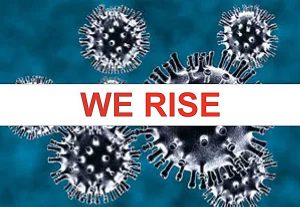 Considering the stronger competitive future ahead, many leaders will begin to 'weigh the efficiencies and effectiveness' between the traditional workplace and remote work. For some this measure 'will be on-going'; whereas continuously adjusting the relationship between people and place, 'in support of the evolving work processes and organizational model'. Strategies in doing so can be both permanent and temporary. Therefore, giving way to an agileness while focusing on the near future and distant goals. Remembering that the "Workplace is a Journey", as fellow WE member Kati Barklund so cleverly chronicles in her April 2020 article for FMlink.
For the latest resources in navigating COVID19, click here to WE RISE. Includes access to webinars, articles, tools, surveys, coaching and expert knowledge.
About the Author
Susan Streur has worked extensively over 20 years in leveraging space as a strategic asset, through the "development of advanced product applications" for emerging workstyles. Her insight around workplace effectiveness has successfully driven strong customer satisfaction in the enhancement of user experiences. She is an active member of the Workplace Evolutionaries Chicago Hub.