by Anthony Pizzitola, CFM, CBCP, MBCI — One of World Workplace 2012 Conference & Expo's major takeaways was the message that if facilities professionals desire to cross the threshold of the boardroom they need to lead change by driving innovation and advancing the businesses they support. This is a direct message that you and only you navigate your career path for success. Your knowledge, strategic execution and communication influence drives the results you achieve. Capsulated, this is defined as your demonstrated knowledge and abilities to communicate thought leadership, evidenced in positive outcomes, elevates you to the boardroom.
I recently read the book, "The High Cost of Doing Nothing." The premise is some businesses eventually pay a higher price for not being receptive to new ideas and failing to be innovative. According to the book, there are several categories of doing nothing and among those, not cleaning up problems, missed marks, recovery and restoration, and retooling and restarting. Equally, many professionals stifle their career paths and elect doing nothing rather than investing the intensive sweat equity required to be current, relevant and futuristic in their chosen industry
Companies are located in built environments. For the purposes of this article, let's select leadership in business continuity management as a discipline that often is disregarded by companies and facility professionals who consider the concept of annihilation preposterous but it occurs daily. Second, let's also examine the quantifiable and qualitative facts that delineate more accurately that threats of total destruction are genuine.
High-impact, low-probability events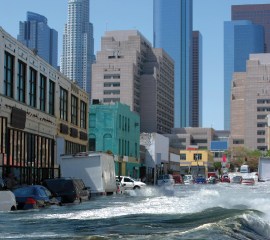 Leadership in business continuity travels a parallel path for facility management leadership relative to property management, leaseholds, and purchasing and selling properties. Leaders are strategically focused on delivering profitable results void of fiscal casualties. Leaders also mitigate their damages by strategic implementation. This requires a cautious balance of being proactive yet risk averse. Facility professionals should engage in leasehold and property management reviews with the ultimate goal to ensure the requirements for all parties are specific and not precatory. Courts are obligated to judge on the written language of the agreement. For remodel and construction projects specifications and delivery timeframes must be absolute. The identical risk aversion must be exercised with disaster preparedness and recovery. Why? Simply stated, who cleans up post-disaster—the FM department.
The single largest catastrophic ticket items are natural disasters like Superstorm Sandy. Many significant high-probability/high-impact disasters have occurred in the last decade including Hurricane Katrina, the Macondo oil spill, and the Japanese earthquake and tsunami. In Chatam House Organization's "Preparing for High-impact, Low-probability Events," it was reported that high-impact, low-probability disasters like hurricanes on the east coast are taking center stage at an accelerated rate. In this study, the term "accepting the new normal" is coined as the headline for accepting catastrophic events. Who would have thought two hurricanes would cruise the northeastern U.S. months apart?
Facilities can be the department that identifies and prepares organizations for these potentialities. This solves two previously identified issues: by convincing organizations there are imminent dangers that threaten the organization's viability, we are solving the high cost of doing nothing. Second, by providing resilience measures, facility managers are increasing the credibility of our presence and contributions to our organizations. Both the organization and the supply chain will be appreciative.
Blueprint for addressing the threatscapes
According to the Disaster Recovery Institute International, business continuity management is the holistic management process that identifies potential impacts that threaten an organization and provides a framework for building resilience with the capability for an effective response that safeguards the interest of its key shareholder, reputation and value creating initiatives. Strategy mapping for disaster preparedness is mainly identifying and controlling potential disasters classified as natural, manmade or technological. The process of identification is an integral part of conditions and assessments tours performed by facilities professionals. Risks evaluation and control tours are performed regularly by business continuity professionals. The eventual confluence and synergy of these disciplines will provide assurance any latent or prospective issues are captured. The objective is to inspect what you expect.
Risk evaluation preparations should include a review of the critical insurance claims and anomalous facility expenditures for the last fiscal year. Inclusive are facility liabilities, security breaches, Americans with Disabilities Act and Occupational Safety and Health Administration violations, and natural disasters. On the quantitative side of the equation, the most critical issues are prioritized in a business impact analysis with cost structures for elimination. This analysis is designed for executives to extrapolate the minimal cost of correction versus the potential cost of disasters in this reign of mega-billion dollar price tags. In conjunction with the analysis, qualitative information should be provided defining the disastrous consequence of the organizations competitive presence in dominant market arenas if the potentialities are not immediately addressed.
A plan not practiced is not a plan
Natural disasters are not discriminatory in their targets. Sustainability requires preparing for any potential threats above and below the ground. DRI International states, "the primary objective of business continuity management is to allow the executive to continue to manage business operations under adverse conditions, by the introduction of appropriate resilient strategies, recovery objectives, business continuity, operational risk management considerations and crises management plans." Hurricane Ike hit Galveston, Texas, USA, dead center. In a recent presentation to the University of Houston Hurricane Recovery Center, I inquired if business owners devastated by Ike now possess an emergency management plan to which everyone enthusiastically acknowledged. When asked if their plan had been practiced, only one person raised his hand. An emergency plan not practiced is no plan at all, but in itself a disaster and eventual confirmation of the high cost for doing nothing. Similarly, a policy occasionally broken is no policy at all.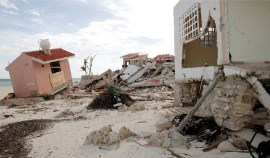 Failure to prepare for disasters opens the doors to courtrooms. Corporate officers and public officials should be concerned about the legal consequences of not having initiated and tested plans for potential disasters. Failure to prepare and failure to plan have surfaced in legal documents. Combined with the court's rulings that disruptive incidents are foreseeable incidents, any organization that abandons the requirement to prepare could find themselves in undesirable headlines.
In addition to legal concerns, moral and ethical issues accompany the failure to possess and implement disaster contingency plans. Failure to support disaster and contingency plans has long-term effects beyond the loss of revenue, image, competitive advantage or property. Disasters can endanger personnel during an emergency.
In the study, "Effective Leadership Response to Crisis," Oxford researchers discovered that corporations with an ineffective crisis response saw their stock plummet 15 percent below its pre-crisis value and conversely, corporations with an effective crisis response closed at 7 percent above their pre-crisis value.
Financial modeling and business continuity management
Financial modeling is focused on future results based on specific numerical input to secure a representation of future income statements, balance sheets and cash flow. Property and facilities is the most valuable physical asset a corporation owns. Business continuity management can keep corporations in safe harbor by risk mapping to erase or minimize the probability of threats that impact their financial models. Corporations are dependent on accurate financial modeling to insure the timing of positive internal rate of returns. Political and economic dynamics more often than not create an untimely entrance that coerces corporations to scramble for financial protection.
Facility management professionals can position themselves heroically by identifying and preventing disasters that can jeopardize financial positions and market share status. Creating a customer-centric department culture engages a collective sense of purpose, not only as service providers but as leaders. The boardroom has an open invitation to those who have accelerated their professional learning and insulated the organization from disasters.
The high cost of doing nothing has zero rewards in the boardroom or on your résumé. A scratch-and-dent résumé is not marketable in these economic perilous times. Similar to investors exploring profitable companies to invest in, the identical companies are seeking innovative team members with flagship credentials and experience to ensure the corporations' viability and solvency. This is contribution leadership. FMJ
Anthony Pizzitola, CFM, CBCP, MBCI, is a facilities professional and one of the subject matter experts on IFMA's Emergency Management Team. He is certified in disaster recovery in the U.S. and the U.K. An internationally award winning author and national speaker on facilities leadership and business continuity, he can be reached for questions and comments at AFPizzitola@aol.com and 713-392-2734.