Posted by Brianna Crandall — October 19, 2022 — The U.S. Department of Energy (DOE) recently released the 2022 Better Plants Progress Update highlighting the leadership of more than 270 manufacturers and water utilities who partner with DOE to increase energy and water efficiency. Collectively, these partners have saved $10.6 billion in energy costs, 2.2 quadrillion British thermal units (Btus) of energy, and more than 130 million metric tons of carbon dioxide (CO2).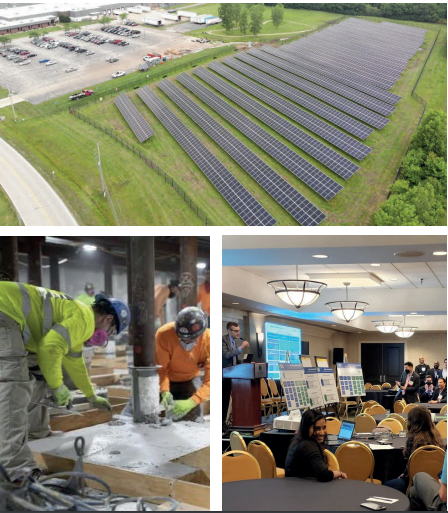 Deputy Assistant Secretary for Energy Efficiency Carolyn Snyder stated:
Decarbonizing the industrial sector is one of our great challenges. Better Plants partners are rising to the challenge and showing leadership by prioritizing energy efficiency and sharing best practices with their peers. Industrial partners save energy and money while creating good-paying jobs, strengthening our economy, and driving market innovation.
As part of the Better Buildings Initiative, Better Plants works with industrial partners to develop, implement and share technologies and best practices to increase energy and water efficiency and reduce greenhouse gas emissions in manufacturing plants and other industrial facilities. Partners represent every major U.S. industrial sector, comprising 14% of the domestic manufacturing footprint and 3,600 facilities across the country. Better Plants partners voluntarily pledge to reduce portfolio-wide energy intensity by 25% over 10 years. DOE works with partners to meet their goals by providing technical assistance, peer-to-peer learning, technology validation and training, and workforce development. To date, Better Plants partners have achieved more than 75 energy or water goals.
Highlights from the 2022 Better Plants Progress Update include:
Legrand North & Central America, Deschutes Brewery, Nestlé Health Science, and Intertape Polymer Group achieved their energy intensity reduction goals in the past year.
More than 60 industrial organizations to date have joined DOE's Better Climate Challenge, a national public-private partnership calling on organizations to cut greenhouse gas emissions by 50% in 10 years and share their solutions with the market.
11 new partners joined the Better Plants program:

Acuity Brands
Brose North America
DENSO Corporation
Entegris
The Hershey Company
Hollingsworth and Vose
Lopez-Dorada Foods
Michael Foods
Nestlé
Phoenix Closures
West Lafayette Water Resource Recovery Facility

7 new partners joined the Better Plants Challenge:

ABB
BorgWarner
Brewery Vivant/Broad Leaf Brewery & Spirits
The Chemours Company
Emerson
Lear Corporation
Trane Technologies

Partners hosted 13 peer exchanges on pressing topics in industrial decarbonization from carbon accounting and reporting to renewables, electrification, and more
DOE conducted Virtual In-Plant Trainings (VINPLTs) over the past two years to enable remote workforce learning opportunities during the pandemic. In just the past year, seven virtual in-plant trainings have resulted in 500 trained workers and the identification of more than $400 million worth of energy cost savings.
Better Practice and Better Project Awards were presented to 17 partners to recognize their leadership in adopting innovative energy-efficiency solutions.
For more information, read the full 2022 Better Plants Progress Update.
Better Plants is part of the Better Buildings Initiative, through which DOE partners with public and private sector organizations to make commercial, public, industrial, and residential buildings more efficient, thereby saving energy and money while creating jobs. To date, more than 900 Better Buildings partners have shared their innovative approaches and strategies for adopting energy efficient technologies. Discover more than 3,000 of these solutions in the Better Buildings Solution Center.