by Brianna Crandall — March 25, 2022 — The Center for Active Design (CfAD) recently announced the 2022 winners of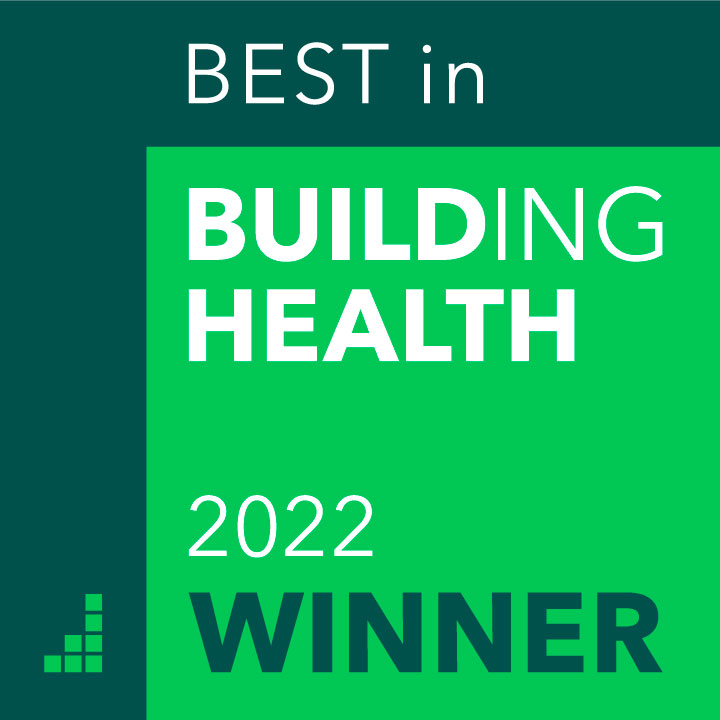 the Fitwel Best in Building Health leadership awards, its flagship recognition program that identifies people and companies enhancing human health via Fitwel, a worldwide certification system committed to building health for all. This year's winners were recognized based on project submissions in 2021 to the Fitwel portal.
Created in partnership with the U.S. Centers for Disease Control and Prevention (CDC) and the U.S. General Services Administration and operated by the global not-for-profit CfAD, Fitwel is a rigorous, third-party healthy building certification system that sets an industry standard for evidence-based strategies to promote health and wellness through the built environment.
Joanna Frank, president and CEO of CfAD, remarked:
The 2022 award winners demonstrate not only an increased demand for Fitwel and healthy building certification, but significantly, an increased emphasis around the globe on prioritizing occupants' health and wellness. With the growing focus on prioritizing human health, real estate owners and investors are meeting the demand for health-focused buildings with key strategies and programs to prioritize occupant health.
The Best in Building Health awards honor those who meet and exceed Fitwel standards, but also recognize exceptional leadership and progress in the industry. This year's special recognition awards feature companies that are leading the charge in driving market transformation through their buildings for health and wellness, sustainability, and social equity:
Social Equity Leadership: Harrison Street has been awarded the Social Equity Leadership Award for implementing strategies that ensure its facilities provide residents and occupants with access to health-promoting strategies focusing on public transportation, amenities, and universal accessibility across its DLC and Brightview portfolios.
Thought Leadership: QuadReal Property Group has been awarded the Industry Thought Leadership award for its commitment to driving research on the impact of buildings on human health and wellness.
For the first time, Best in Building Health is recognizing Fitwel Ambassadors for their commitment to serving as leaders and active participants in Fitwel's healthy building movement. The Ambassadors with the Highest Scoring Project are two Ambassadors from Corgan, an architecture and design firm, who were a part of the Peloton HQ NYC certification effort. Rachel Schiftan of Cushman & Wakefield has been named the Ambassador with the Most Certified Projects of all time, at 60 projects.
Additional awards that highlight the adoption and implementation of health-forward strategies include:
Fitwel Excellence Award: Most Certification of All Time: Kilroy Realty Corporation
Fitwel Promise Award: Most Benchmarked Projects of All-Time: QuadReaI Property Croup
Fitwel Impact Award: All-Time Highest Scoring Project: Peloton/Corgan, Peloton HQ, New York, NY
Best in Building Health recognizes projects worldwide, from Kyoto, Japan, and Taoyuan, Taiwan, to Moscow, Russia, and Tel Aviv, Israel. The growing number of geographically diverse projects underscores how the healthy building movement is not limited to one country or region, but the global real estate industry.
For the complete list of the 2022 Best in Building Health recognition categories and award winners, visit the Fitwel website.