by Jeff Stanek — This article originally appeared in the January/February 2022 issue of FMJ
Since the onset of the pandemic, commercial building  owners and facility managers have invested significant time, energy and resources — largely focused on indoor air quality — to help reduce the spread of COVID-19 and to assist in creating a safer and healthier environment for employees, customers and other occupants. This is good progress on the journey to a healthier building experience, but there are other vulnerabilities that must be addressed to complete the vision.  Recent innovations in access control and mobile credentialing technology have played an important role in fortifying building health and safety during the pandemic.
Mobile credentialing decreases the demand for keypads, touchscreens, keycards and fobs by transferring access control capabilities to Bluetooth-enabled smartphones. This allows employees to move throughout the building without putting their hands on common touchpoints; thus reducing opportunities for transmission of surface-borne viruses and microorganisms. Facial biometric readers have evolved to now recognize users wearing masks. Occupancy management software can alert FMs when rooms are at capacity and even restrict access to those rooms to avoid overcrowding.
This technology has undoubtedly helped reduce the spread of COVID-19, but as the pandemic slowly wanes, FMs who made these investments — or those who may be skeptical of making such investments — may be thinking about the utility of these technologies in a post-COVID-19 world. Occupant health and wellness will not end with COVID-19. The pandemic has changed understanding and awareness of healthy environments in ways that will outlast this crisis, and it is the responsibility of businesses and organizations to maintain a lasting and comprehensive focus on occupant health and safety. Fortunately, these examples of access control and mobile credentialing solutions, along with other similar and connected technologies, can help FMs address many issues related to building health, safety and security and deliver a reliable return on investment.
Opening the door to a healthier occupant experience
Since the pandemic started, people developed a stronger awareness of the health and safety of indoor environments. Additionally, it became apparent that the precautions taken to reduce the spread of COVID-19 helped mitigate the spread of other illnesses. For example, during last year's flu season, the CDC reported about 2,038 positive flu cases in the U.S., down tremendously from the estimated 38 million likely cases from the year before. Researchers say this drop was largely driven by mask wearing and social distancing. Seeing the positive health benefits of taking these small actions should permanently change mindsets toward preventing sickness and help contribute to reducing illness-related lost productivity, which costs U.S. employers US$575 billion annually, according to the Integrated Benefits Institute. When people enter indoor spaces, they will be more likely to consider how the conditions within that building impact their health.
For FMs wondering how they can get hesitant employees and customers more comfortable with returning to commercial buildings, adopting these solutions shows occupants that the business is dedicated to health and safety. Hand sanitizer stations and laminated signs are not enough. Owners and FMs must demonstrate a thorough, lasting commitment to healthy building initiatives that instill a sense of health and security that is noticed by occupants.
Before office employees enter the front door, tools like mobile self-assessment surveys allow credentialed employees to evaluate their health symptoms and self-report their positive COVID-19 status. Based on the results, these tools can then automatically restrict building access for the employee for a predefined quarantine period. The health surveys can provide employees with real-time anonymized notifications if they have recently come into contact with another user that self-assessed as being COVID-19 positive.
When occupants arrive, entry point control tools can restrict visitor access until they complete a self-assessment or check in at an approved entry point. This makes it easier for an organization to screen for masks and complete other daily wellness checks. Biometric tools can be used for contactless check-ins without the need to remove masks. These tools also help enforce mask mandates, which can make occupants feel at ease knowing these rules are being taken seriously. As occupants move throughout the building, incorporating digital signage that displays indoor air quality or the occupancy limits of a room tells those inside that the building's health environment is being monitored and adjusted in real time.
While coronavirus variants have been a tough reminder of the pandemic's peaks and valleys, some FMs are already thinking about how these technologies can add value in the eventual post-COVID world. That is because these technologies were becoming best practices even before the pandemic, and their utility and application will continue to expand.
Healthy also means safe and secure
Protecting occupants from illness is only one facet of what makes them feel happy, healthy and safe. When it comes to building health, it is just as important for FMs to incorporate solutions that help mitigate stress related to concerns over the occupants' physical safety. This is backed by reports that have examined the links between the effects of stress and immune systems, as well as Maslow's hierarchy of needs, which tells state that safety and security are among a person's most fundamental needs, second only to human physiological needs.
This good news for FMs is that many of the commercial building technologies purchased to help reduce the spread of COVID-19 also enhance building security and improve an occupant's sense of safety and well-being. Here are several examples.
Cardholder Self-Assessment: As U.S. COVID-19 vaccination rates climb, there may be less use for health assessment surveys. However, this same survey technology can be adapted to screen contractors and other visitors and keep any unwanted personnel out of mission-critical areas. Also, companies can use mobile surveys to grant access based on whether a contractor's safety training is up to date or if they have signed a non-disclosure agreement.
Mobile Credentialing: By granting building access through smartphones and Bluetooth technology, rather than keycards and fobs, mobile credentials provide numerous security benefits in the post-pandemic world. First, mobile phones add security with pin codes, fingerprint or face Second, when the mobile credential is passed to the reader, an encryption layer secures its transmission. Aside from the added security, individuals are more protective of their smartphones than keycards or fobs, and therefore less likely to lose them or leave them at home. Once this technology is fully realized, users will be able to move freely throughout a building without needing to remove their phones from their bags or pockets.
Occupancy Management: Access control technology such as entry point controls or maximum volume alerts in certain areas can greatly increase building security by limiting unauthorized access to buildings, hallways or Additionally, they allow FM personnel to manage entry and exit to certain areas in the event of an emergency.
Biometric Tools: In addition to detecting masks, biometric tools can provide face, eye and fingerprint scanning and other forms of multifactor authentication to enhance the security of a building.
The benefits of healthier buildings
Implementing technologies that assess occupants' daily health, control access to the building and specific locations within it, and reduce touchpoints not only improves employees' well-being; the commitment to a healthy building environment can save companies millions of dollars a year. According to that same Integrated Benefits Institute article, poor health costs U.S. employers upward of US$575 billion a year.
FMs that invest in technology designed to help reduce the chances of employees becoming ill by reducing touchpoints and maintaining safe distances can also expect to see a boost in overall productivity. This is supported by a recent study that claims healthy buildings can be tied to better overall cognitive function.
In addition to helping prevent losses related to illnesses like the flu by reducing touch-points, access control technology increases overall building security, which can improve the mental health of its occupants by giving them a stronger sense of safety and peace of mind. This can help reduce stress-related health ailments and mitigate losses related to presenteeism and absenteeism.
For years, building innovation meant designing buildings to be greener or smarter, but since the pandemic, there is newfound focus on melding these initiatives into a cohesive healthy building experience for occupants. The investments made to date provide a solid foundation on this journey, but they are just that — the foundation. It is time to accelerate implementation of building systems that get employees, customers, students and others back where they can contribute productively and safely.
About the author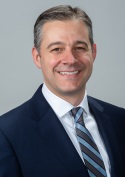 Jeff Stanek, president, LenelS2, is an industry thought leader focused on advanced security systems and services. He has responsibility for the LenelS2 global product and business strategy and additionally serves as general manager, access solutions, Carrier.