Posted by Johann Nacario — May 23, 2023 — The U.S. Department of Education has announced the 2023 U.S. Department of Education Green Ribbon Schools, District Sustainability Awardees, and Postsecondary Sustainability Awardees.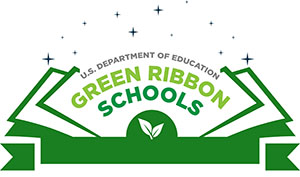 Across the country, 26 schools, 11 districts, and four postsecondary institutions are being honored for their innovative efforts to reduce environmental impact and utility costs, improve health and wellness, and ensure effective sustainability education. The honorees were named from a pool of candidates nominated by 18 states. Notably, two-thirds of this year's honorees are located in disadvantaged communities.
In addition, one state education official is recognized with the Director's Award. This year, it is Alexandria Roe of the University of Wisconsin System.
In related infrastructure and sustainability news, in the recent omnibus appropriations bill, the Department was authorized funding to administer two programs related to school infrastructure that will address sustainable schools practices. These are: 1) a state capacity building program that will bolster several of the lowest capacity states in school facilities to, in turn, support their highest-need school districts; and 2) a national technical assistance center for school infrastructure that will support high-need districts across the nation. In both of these programs, healthy, safe, sustainable, 21st century school facilities and grounds that support high quality learning will be guiding tenants.
U.S. Secretary of Education Miguel Cardona stated:
The challenges posed both by the pandemic and by climate change have driven home the importance of modernizing school facilities, embracing sustainability, prioritizing health and wellness, and improving learning conditions for students, especially in underserved communities. I want to congratulate the educators, school leaders, students, families, and advocates engaged in this work for showing the nation that any school in any community can strive to be a green school, and in doing so, empower the next generation to build a healthier, more equitable, and more sustainable nation.
In addition, the Department is engaging the non- and for-profit private sectors by leading an infrastructure and sustainability challenge, encouraging partners to make commitments to supporting healthy, sustainable, equitable school infrastructure, environmental education, and bold environmental justice and climate goals in schools that the Department will then promote in order to inspire additional commitments.
Following is the list of 2023 U.S. Department of Education Green Ribbon Schools, District Sustainability Awardees, and Postsecondary Sustainability Awardees:
AL – Hoover – Shades Mountain Elementary School (Category: School)
AL – Gulf Shores – Gulf Shores City Schools (District)
CA – Carlsbad – Jefferson Elementary School (School)
CA – Lake Forest – Santiago STEAM Magnet Elementary School (School)
CA – Redwood City – Redwood High School (School)
CA – San Jose – Bellarmine College Preparatory (School)
CA – Moreno Valley – Moreno Valley Unified School District (District)
CT – Southport – Mill Hill Elementary School (School)
DC – Washington – Frances L. Cardozo Education Campus (School)
DC – Washington – Georgetown University (Postsecondary Institution)
FL – Orlando – Arbor Ridge K8 School (School)
FL – Orlando – Stone Lakes Elementary School (School)
FL – Orlando – Oak Ridge High School (School)
FL – Miami – Palmer Trinity School (School)
IL – Mount Prospect – Prairie Trails School (Early Learning)
IL – Algonquin – Huntley Community School District 158 (District)
IN – Carmel – Carmel Clay Schools (District)
IN – Lafayette – Purdue University (Postsecondary Institution)
IA – Iowa City – Iowa City Community School District (District)
KY – Lexington – Cardinal Valley Elementary (School)
KY – Danville – Mary G. Hogsett Primary School (School)
LA – Baton Rouge – Park Forest Elementary Creative Sciences & Arts Magnet School (School)
MD – Windsor Mill – Watershed Public Charter School (School)
MD – Centreville – Queen Anne's County Public Schools (District)
MA – Boston – Boston Public Schools (District)
MO – St. Louis – Patrick Henry Downtown Academy (School)
PA – Chadds Ford – Hillendale Elementary Schoo (School)
PA – Coal Center – California Area School District (District)
PA – West Chester – West Chester University (Postsecondary Institution)
RI – Providence – East Providence High School (School)
RI – Jamestown – Jamestown School Department (District)
VA – Leesburg – Little Tree Huggers Preschool (Early Learning)
VA – Woodbridge – Freedom High School (School)
WA – Gig Harbor – Pioneer Elementary School (School)
WA – Puyallup – Chief Leschi Schools (District)
WI – Milwaukee – Browning Elementary School (School)
WI – Eagle – Eagleview Elementary Charter School (School)
WI – Fitchburg – Forest Edge Elementary School (School)
WI – Milwaukee – Tamarack Waldorf School (School)
WI – De Pere – Unified School District of De Pere (District)
WI – Platteville – University of Wisconsin Platteville (Postsecondary Institution)
For more information, see: