by Janet B. Stroud — December 13, 2022 — The AHR Expo has released its 2023 Trend Report covering the current state of the heating, ventilation, air-conditioning and refrigeration (HVACR) industry and outlook for 2023. The researchers created the HVACR trends report to provide a thoughtful connection point for its audiences with the goal of identifying the state of the industry ahead of the show in Atlanta February 6-8, 2023.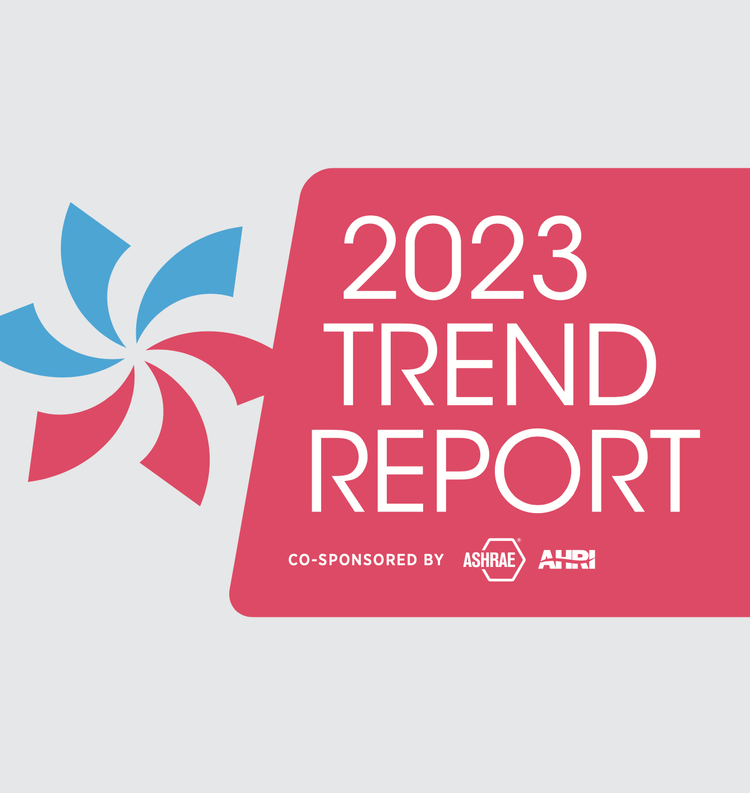 The robust report was compiled with information from HVACR industry associations, as well as a sampling of manufacturers and those working in the field. Respondents were asked a series of questions based on the current state of the industry and discussions happening in their specific areas of expertise, as well as opportunities, threats and market predictions heading into 2023.
Respondents from HVACR industry associations were:
Farooq Mehboob, ASHRAE President and Fellow
Stephen Yurek, AHRI President and CEO
Scott Lynch, ABMA President and CEO
Andy Mcmillan, BACnet International President and Managing Director
Greg Walker, CABA President and CEO
Howard Weiss, Green Mechanical Council COO and Executive Vice President of ESCO Group
Talbot Gee, HARDI CEO
Patrick Nielsen, HVI Chairman of the Board
Summary takeaways and common industry themes include:
1. Regulations remain a driving force towards a cleaner future
Decarbonization
Green transition
New standards with quicker onboarding
M1 and refrigerant updates
2. The built environment is evolving
New demands for efficiency
IT and the connected consumer
Automation
Awareness of long-term benefit with higher performing systems
3. Supply chain recovery
New practices adapted out of necessity
New ways of moving product across the chain
Rebounding and future planning
Transportation models
4. Inflation and recession
Forecasts and planning
Expectations
The new role of HVACR in the budget
5. Workforce and training
The need for a strong and skilled workforce
Projected increasing demands for the industry
Flow of information across the chain: IAQ, changing regulations, application updates
6. Cybersecurity
Building control
Threat considerations
Planning for a connected future
7. Expansion, growth and meeting demand
Managing multiple areas of growth within the industry
Educating first the workforce, and secondly the end user
Managing and meeting expectations — the consumer is more involved than ever
The full 2023 Trend Report is available from the AHR Expo.
Readers may register to attend the show for free.