by Brianna Crandall — August 27, 2021 — iOFFICE, a provider of workplace experience and asset management solutions, and SpaceIQ, an Integrated Workplace Management System (IWMS), space management and employee experience provider, have just announced that they have merged following strategic investments in the companies by global private equity firms Thoma Bravo and JMI Equity. Together, the combined organization will address a rapidly growing market opportunity through a comprehensive offering of smart platforms for managing corporate real estate (CRE), physical assets and workplace experience.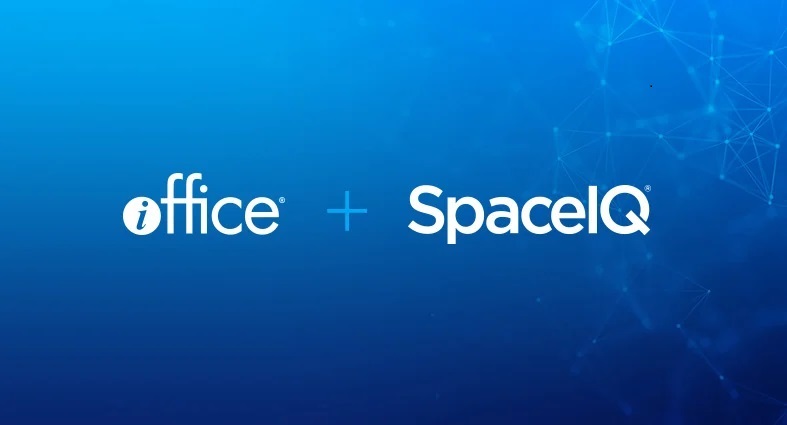 Monumental shifts in workplace, facilities management (FM) and business-critical equipment requirements, intensified by increased employee expectations for workplace experience and flexibility, have driven demand for tools that enable businesses to adapt more quickly than ever before. With more than 10,000 customers in over 85 countries, and a comprehensive product portfolio, the combination of iOFFICE and SpaceIQ creates a clear leader addressing these workplace management needs.
Wain Kellum, CEO of SpaceIQ, will remain as CEO of the newly integrated organization. Mark Peterson, CEO of iOFFICE, will focus on leading iOFFICE through the transition to set the merged company up for success.
CEO Kellum remarked:
Our product roadmaps and prospects were tightly aligned, making a merger the best option to accelerate innovation and evolution. Bringing these two companies and teams together gives us unmatched ability to produce the solutions that our rapidly changing industries require. Thoma Bravo's background in building industry leaders gives us experience, scale, and product capability that no other vendor in our industry comes close to matching.
iOFFICE aims to create responsive, frictionless workplaces everywhere through space planning, employee experience and asset management software-as-a-service (SaaS) solutions. The company's cloud-based, open-API platforms and mobile apps help businesses of all sizes connect data, people and things wherever work takes place. Through its marketplace of smart building and Internet of Things (IoT) connectors and global partner network, iOFFICE enables enterprises to increase agility and scalability while streamlining their tech stack. See why more than 8,000 organizations in 85 countries choose iOFFICE to make their workforces more productive, create exceptional experiences, and simplify facility and equipment management.
SpaceIQ's goal is to make workplaces smarter and employee experiences better. If you need centralized data-driven platform to make better informed decisions about your real estate; if you want to plan and manage a more productive and efficient work environment; and if you want to give your employees a frictionless experience so they can do their best work, the company has solutions to meet those needs. Its mission is to help businesses of all sizes reach their full potential by creating great workplaces that attract and retain the talent they need to grow and succeed.