by Landscape Forms*–Furnishing outdoor spaces can sometimes be a complicated task, involving a different set of considerations than those that apply to their indoor counterparts.  For facility managers, this job entails achieving a balance between aesthetics and functionality while also reconciling the harsh realities the outdoors bring — weather, UV light, fluctuating heat and cold, and the harder everyday wear and tear to which the furnishings are subjected. Compound these considerations with the increasing expectations surrounding sustainability in production and manufacturing, and you have quite a laundry list of boxes to check.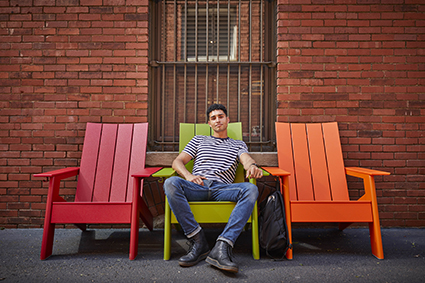 Solving these challenges is an innovative new category of site furnishings that utilizes recycled high-density polyethylene (HDPE) to create pieces that are changing minds about the role of plastic in high-profile, high-design outdoor spaces. Because of its durability and lack of required maintenance, HDPE is one of the most common plastics in the world used for countless practical applications like playground equipment, culinary supplies, and industrial and marine products —  and now, thoughtfully crafted and often eye-catching modern outdoor furniture.
From picnic tables to benches, lounge chairs and other outdoor solutions, these furnishings play an important part in improving material sustainability, bringing new value to post-consumer and post-industrial content, and diverting plastics from landfills — while adding comfort, character, and color to public and commercial outdoor destinations. The material shines in its endurance and resiliency, standing up to the elements, resisting heat and cold, and retaining lively color even in full sun. And being HDPE, these types of furnishings can be easily recycled at the end of their durable lifespans to create new value once again.

Combined with the virtues of the material, thoughtful design details transform familiar categories of site furnishings into artful statement pieces for modern facilities.  With simplified lines, refined aesthetics, and modern engineering techniques, new HDPE furnishings are representing a more design-focused, functionality-backed, and sustainability-driven intent that's enhancing the experience of outdoor space in every way. Here are a few examples of how they can elevate and activate the various types of outdoor spaces in a modern facility:
Places to gather and collaborate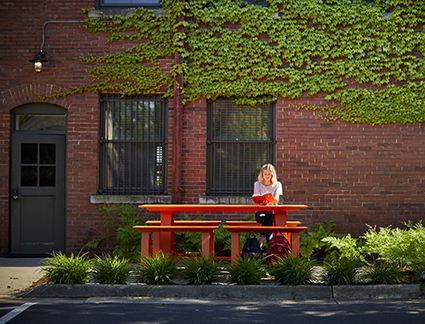 If you thought picnic tables were just for rest stops and campgrounds, think again. Tables like Harvest reimagine the familiar form and take it in a much more professional direction. Crisp lines, refined shapes, appealing textures and additional features merge style, functionality, and longevity. A light spanning the table's center sets the mood with gentle illumination (think warm candlelight) and extends usability into the evening. Beneath HDPE tops, the table's and benches' legs and understructure are robust, constructed from aluminum finished with a polyester powder coat that resists fading and chipping. The table is offered in two heights — standing height and dining height — with corresponding benches. The two statures provide different ways for people to gather — sitting, standing, perching, leaning, eating, or having a meeting.
Places to touch down and enjoy in-between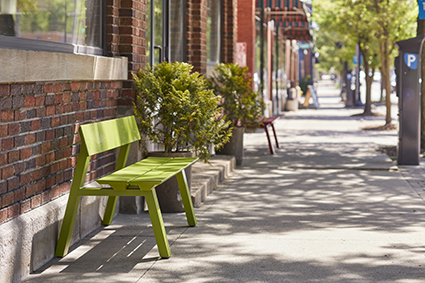 The Glide bench showcases the way in which these HDPE-based furnishings can simplify and minimize the design of familiar site furnishings to make uniquely modern and eye-catching design statements. The form of the bench—the way the seat and back seamlessly join the base—is minimal and elegant yet gives it a silhouette that stands out among other benches. Behind Glide is the idea of creating outdoor spaces that are beautiful, welcoming, and enjoyable. Much of its design intent was dedicated to the elegant and enduring combination of HDPE and aluminum without any visible screws or fasteners. The result is a unique understructure that enables the plastic components to naturally expand and contract in changing temperatures while still maintaining a seamless connection to the metal base.
Places to relax and repose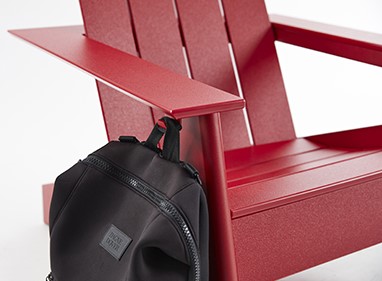 The classic Adirondack chair is a timeless expression of outdoor enjoyment, and the Americana chair takes the concept a few steps further—modernizing the iconic design language and using high-performance HDPE to make a bold visual statement while ensuring the chair's durability. A celebration of outdoor living, Americana incorporates features designed to bring more aspects of modern life outside. Accessories for Americana include a hanger underneath the arm for secure bag or purse storage and an optional tablet arm, providing a wider surface for food and beverages, or to serve as a work surface. Americana's form factor is both wider and taller than a traditional Adirondack to enhance comfort and accessibility, offer a wider range of seating positions, and aid ingress and egress.
Without a doubt, new HDPE site furnishings, including those above from Landscape Forms and Loll Designs, check the boxes of style, comfort, and sustainability. Designed for a time when quality outdoor spaces are appreciated more than ever, they provide facilities an opportunity to activate and enliven their exteriors without compromise.
To learn more about the HDPE plastic furniture solutions listed above, visit the Landscape Forms website.
About Landscape Forms:
Landscape Forms is the industry leader in integrated collections of high-design site furniture, structures, accessories, and advanced LED lighting. Since its founding in 1969 Landscape Forms has earned a reputation for excellent design, high quality products and exceptional service. The company is headquartered in Kalamazoo, Michigan, and includes Kornegay Design, located in Phoenix, Arizona, and Loll Designs, in Duluth, Minnesota, in its family of brands.  It has sales representatives throughout North America, South America, the United Kingdom, Australia, the United Arab Emirates and Asia. Landscape Forms collaborates with renowned industrial designers and consultancies, landscape architects, and architects to design and develop integrated collections of products that address emerging needs and help create a sense of place. Additionally, the company has formed global marketing partnerships with select companies that share its commitment to design. Landscape Forms has an installed base of products around the world. Clients include municipalities, transit centers, corporate, college and health care campuses; and familiar brand leaders such as Harvard University, Linked In, New York Central Park Conservancy, Bryant Park, Google, Coca Cola, Oculus, U.S. Tennis Association (USTA), Nike, National Museum of African American History (Washington, D.C.), Barclays Center, Adidas, Children's Hospital of Philadelphia, Microsoft, and Uber. We've been named one of the Best Workplaces in Manufacturing & Production for 2020 and 2021 by Fortune magazine, Michigan Manufacturer of the Year for 2020 by the Michigan Manufacturers Association, and by 269 Magazine as one of Southwest Michigan's Wonderful Workplaces.
About Loll Designs:
Loll Designs makes outdoor furniture for the "modern lollygagger," people who play hard, work hard, relax hard, and appreciate the outdoors. The founders of Loll Designs joined forces in 1997 as TrueRide, designing municipal skate parks around the world. They became adept at turning recycled high-density polyethylene (HDPE), better known as #2 plastic, into large-scale sculptural skate ramps. Then, to repurpose excess skate ramp material and with their expertise in 3D design, they evolved from skate parks to Epicurean, a successful line of kitchen accessories, in 2003, and Loll Designs in 2006, with its debut of an Adirondack chair that displayed a playful but modern, refined aesthetic. Loll Designs has been recognized for excellence in design and a strong commitment to sustainability with four Good Design Awards, a Green Dot Award, Time magazine Green Design 100 Awards, and the New York House Innovative Green Award. Loll Designs is based in Duluth, Minnesota.