This article originally appeared in the November/December 2022 issue of FMJ
by Bill Conley — Imagine writing a screenplay about facility management. The stage is the built environment. There are antagonists aplenty: Climate change, equipment attrition and breakdowns, budget limitations, customer complaints and many others. Yet even these can be fluid based on occurrence. Right-sizing a production is a moving target; there could be a call for a cast of thousands, like "Game of Thrones" or just two, like Beckett's "Waiting for Godot." The story dictates the participants, just as a particular facility demands a certain staff.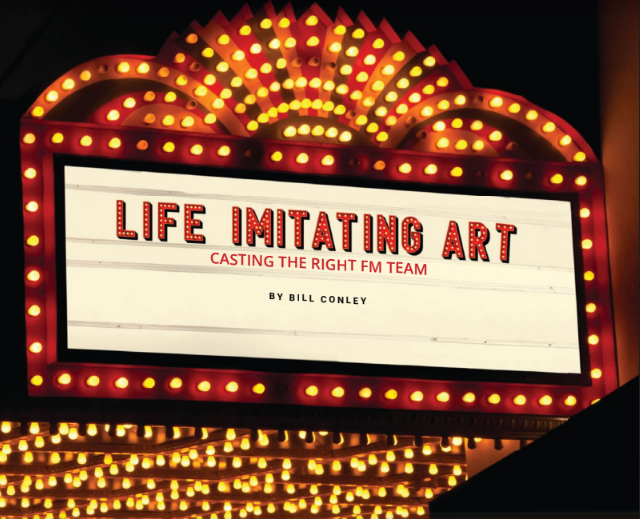 What is necessary is a thoughtful development of the various roles. There are stereotypical characters in every tale and pre-defined roles and responsibilities which demand action. The same goes for FM; there are well-documented standards on the types of FM workers needed to manage the built environment.
FMs handle a multitude of tasks, and as much respect as there is there out there for FM professionals, it is safe to say that one person cannot handle everything. This is not only due to the number of tasks, but also because of the diverse talents needed to fulfill them.
There is facility maintenance, people management, safety and security needs, streamlining processes through automation, indoor environmental quality and indoor air quality, sustainability — the list is never-ending. Facility performance is not always measured by what has been accomplished, but unfortunately by what is missed, so it is incumbent on the FM to cast the best team for the job.
It is a common fallacy to equate rightsizing with downsizing. Downsizing is often a financial necessity due to economic hardship or for companies to better realize profitability. Rightsizing is all about finding the right size and structure for a department. This does not always entail reducing numbers. It could just as well mean adding personnel based on needs. Rightsizing an FM department means redefining job descriptions and reorganizing employee structures to maintain efficiency and properly equip the team with the means to meet its objectives.
The right size of employees in an FM department is a nebulous number. There is no cookie-cutter answer as there are too many variables in the types and uses of a facility. Estimates run from anywhere to one full-time employee for 45,000 gross square feet (GSF) to one per 70,000 GSF. However, the right number of employees must be dictated by the needs of the facility and the business.
The Department
An FM hierarchy could look like this: there is the "tool-belt guy,"the genesis of FM. These employees are the backbone of any facility department; if something needs to be fixed, they can do it. If there are two or more of them, a supervisor may be warranted. An administrator/facility coordinator is needed as well, and in the new age of software, a facility worker dedicated to IT functions. Then, of course there is the facility manager or director of facilities.
So…onto the screenplay. Most drama is formulaic; there must be starting points and structure that define the story. A premise must be posited and a cast of characters populates the narrative.
First comes the Hero, and in this saga, the FM is the main protagonist. The FM sets the tone for the team, leading them by example. They delegate tasks, select the appropriate person for action needed, formulate plans and strategy, face challenges head-on and make tough decisions.
There is the Trusted Sidekick, a role filled by a facility coordinator/administrator. Providing support and attending to detail would be part of their responsibilities, as well as acting as a foil to the FM and keeping them grounded in reality.
The Old One, the wily veteran. This employee is tried and true, who has been through been through the wars once or twice. Serving as a mentor and advisor, the institutional knowledge resident here is a necessity for any facility story.
The Young One is new to the profession and will usually be taken under the wing of the Old One. Potentially getting prepared to be an emerging leader and is the hope of the future. This character has a lot to learn, and their pitfalls and mistakes may lend humor to the narrative.
The plot also needs The Smart One. This role would be filled by a software expert to help navigate the technology that is now such a large part of FM.
Finally, the Supporting Cast must be filled. These would be the other maintenance workers. They are integral components of a successful FM adventure.
Developing these characters is of noteworthy importance. A leader without any followers is a lonely person, destined to wander aimlessly.
Just like in a script, other than the number of staff needed, in right-sizing a facilities staff, getting the right people is paramount. Not only the ones with the right training or experience, but those with the right mind-set. They must realize that perception is reality. What people think and feel are not always the same as the facts. Casting a fully developed team who plays their roles to the best of their ability will go a long way in creating a sense of well-being in a facility.
Intangible attributes
To round out the players, they must be imbued with characteristics which are distinctly necessary to be true, successful FM staff members. Starting with the leader and all the way through the ranks, there is a certain psychology that sets FM department employees apart. They know that this is not just a job, it is a commitment. Staff in FM departments do not mark time in the building to collect a paycheck. They need to be dedicated to the well-being of all employees, visitors and guests. They should have a care-giver mentality, which is usually the unifying element in the department.
Empathy is one of the most important attributes an FM team member should possess. It is the capacity to understand or feel what another person is experiencing from within their frame of reference, Definitions of empathy encompass a broad range of social, cognitive, and emotional processes primarily concerned with understanding others from an internal, personal perspective. Many times, requests or concerns from FM customers do not make sense or seem like a waste of time. Before these issues are dismissed or ignored, facility staff should evaluate the reasoning behind them. Knowing how a person feels or what they mean will help when trying to assist them. Empathy might also be linked with wisdom. Having wisdom is associated with higher levels of compassion increased confidence in one's capabilities.
There are three recognized types of empathy:
Emotional Empathy: Realizing that people have extenuating circumstances that affect their needs and well-being and acting to support them
Contextual Empathy: Considering the goals and motivations of customers and the constraints and obstacles they need to overcome to achieve these ends. In the workplace, an FM must do their best to assist these employees by providing the best service and quality of life possible.
Cognitive empathy: Understanding that the knowledge and mental models of people may be different. Being able to tap into how they think while explaining the FM mindset. Producing mutually understood operational definitions will go a long way in bridging those gaps.
FM staff must possess a modicum of common sense and be able to make reasonable and judicious decisions based on a simple perception of any situation or fact. They need to be tolerant of some of the weird requests they will receive and respectful during interactions that may not be going their way. Facilities staff deal with and guide many people on a day-to-day basis. When working with a variety of personnel, it is important that they are patient and understanding. These are key components of active listening and effective communication.
Resilience is another important trait that will help when maintaining the workspace. This is the ability to manage stress and function well even when faced with challenges, adversity and trauma. It means being able to react effectively to those sudden events which tend to happen at the most inopportune time. Three main elements that resilient people possess are challenge, commitment, and control.
To round out the character development, the trope of a Fatal Flaw must be introduced. Heroes, of course, always have an issue with which they wrestle on a consistent basis. This may open them up for specific conflicts later, when a protagonist's fatal flaw is encountered through the course of a plot.
In this scenario, this flaw is Idealism. It is hard for the Hero to grasp the fact that everyone does not understand the importance of Facility Management to their daily lives and that they do not fully appreciate the criticality of sustainability. To fight that continual feeling of disappointment and frustration, FM staff must take pride in their accomplishments. It is unfortunate that the services provided by facilities go mostly unnoticed. It can be a thankless profession. If they need outside recognition and do not take satisfaction in performing tasks well on their own, it could prove to be a depressing experience.
Writing a screenplay can be fun. It allows the author to be creative, inventive and adventurous. Dramatic license is a blank check. However, much of what is narrated needs to be based in fact so that it is understandable by the audience and will resonate with them. In a perfect world, an FM team, made up of the right people, would be a force to be reckoned with. Especially with the goal in mind to take care of the ubiquitous Triple Bottom Line. Are there FMs out there who are paragons of virtue, focused, dedicated and responsible? It could be hoped. Perfection may not ever be attainable, but its incessant pursuit is a noble effort.
In the classical sense, the difference between a tragedy and a comedy is the ending; if the story ends badly, it is a tragedy. FM should always be a comedy. Good FMs leave customers with a smile on their face. Even more importantly, the fate of humanity may rest on their actions. This may sound overly dramatic, but it does make for a good script.
About the Author

Bill Conley, CFM, SFP, FMP, LEED AP, IFMA Fellow, is a facility manager at Yamaha Motor Corp. in Cypress, California, USA. He previously served as owner and chief sustainability officer of CFM2, a facility management company. Conley has more than 40 years of experience in the facility management profession and has been a proponent of sustainable operations for more than 20 years. Conley has served on the IFMA board of directors, is a recipient of IFMA's Distinguished Member of the Year award and has received the association's Distinguished Author award three times. He has been a regular contributor to FMJ for more than 20 years and has authored almost 100 FMJ articles.