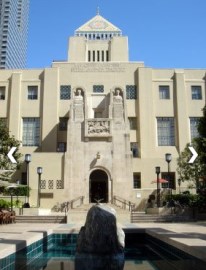 by Brianna Crandall — February 12, 2014—The U.S. Department of Energy (DOE) recognized the City of Los Angeles, California, on January 29 for its leadership in the Energy Department's Better Buildings Challenge, which is helping the city save on energy costs and cut greenhouse gas emissions. Through the Better Buildings Challenge, Los Angeles has pledged to reduce the energy intensity for 30 million square feet of city-owned facilities and private buildings by 20 percent by 2020.
Through the Los Angeles Better Buildings Challenge, Mayor Antonio Villaraigosa and the City of Los Angeles have launched a comprehensive array of programs to reduce energy consumption in existing buildings, from retrofitting city-owned facilities and affordable housing stock, to working with the private sector to support financing of energy efficiency and water efficiency upgrades in commercial buildings.
Los Angeles is working to benchmark 250 of the city's most energy-intensive facilities and develop a plan to improve building performance by 2020, and has committed to work with and recognize private sector property owners who make commitments of their own to reduce energy consumption by at least 20% by 2020. More than 25 owners of large commercial buildings, including Transwestern, Kaiser Permanente of Southern California, Kilroy Realty, and the Children's Hospital of Los Angeles, have joined the Challenge and are reporting their results annually to help others save money and energy.
As an example, each year, the 500,000-square-foot Los Angeles Central Library uses approximately 7 million kilowatt hours, equivalent to the annual electricity consumption of about 600 households. Through the Better Buildings Challenge, Los Angeles has retrofitted the library, including replacing an aging roof with a cool roof, updating the HVAC system, and replacing old lighting with new, energy-efficient bulbs. As a result of these upgrades, the library is on track to save about $175,000 in energy costs per year.
President Obama launched the national Better Buildings Challenge in 2011 to "catalyze revolutionary change in energy use and achieve record-breaking energy bill savings." More than 120 organizations (with a portfolio of over 7,700 facilities)—including a diverse set of public and private sector partners from local governments, school districts and universities to commercial real estate, healthcare and manufacturing—are partnering with the Energy Department to achieve portfolio-wide energy savings and share successful strategies that maximize efficiency.
In addition, the Better Buildings Challenge includes a network of Financial and Utility Allies to assist partners in overcoming financial and data access barriers across the marketplace; Financial Allies have extended more than $1.1 billion in private financing for energy efficiency improvements to date.