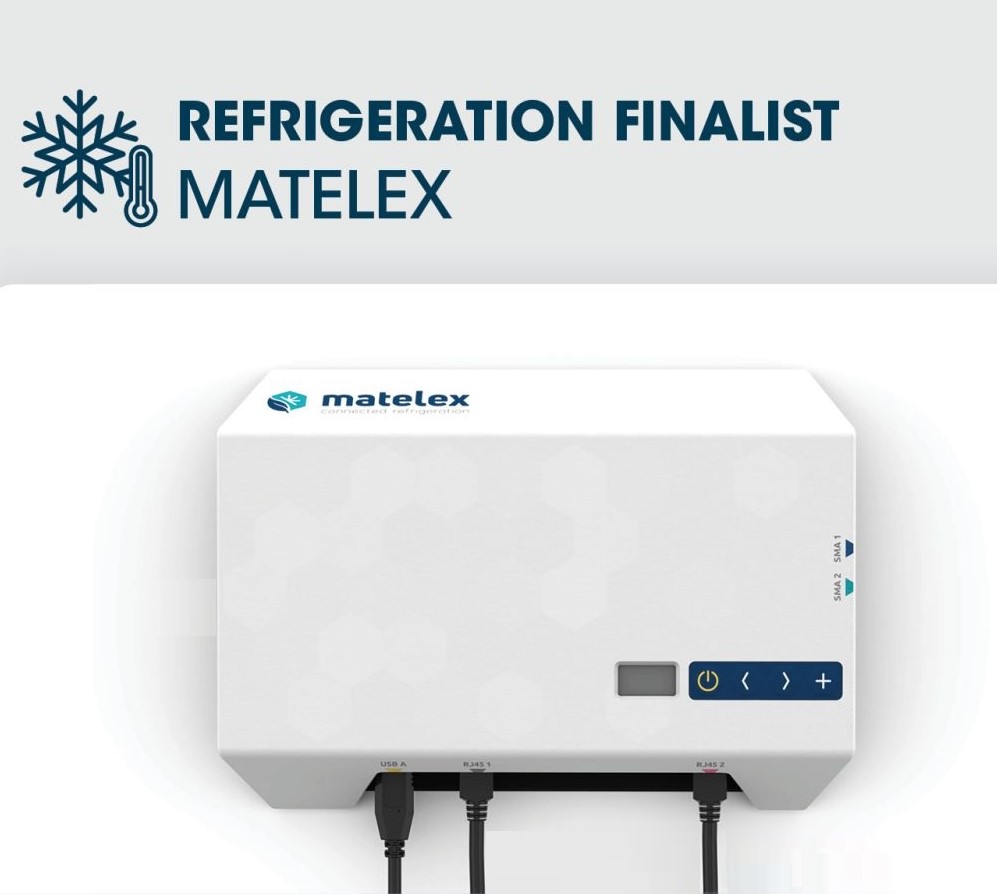 Posted by Janet Stroud — March 15, 2023 — David Reitz, U.S. representative for the French connected refrigeration company Matelex, has just returned from this year's forum for air conditioning, heating, and refrigeration professionals, known as the AHR Expo, where Matelex was singled out as one of three finalists for an Innovation Award in the category of Refrigeration. While in Atlanta, Reitz spoke about PolarBox (patent pending) and PolarVisor — two products that work together — in a presentation  titled Benefits of Proactive Refrigeration Maintenance to Your Bottom Line and Workforce. He referred to the company's track record in the industry, its experience installing over 4,000 systems worldwide, and recent accolades such as Matelex's 2020 AHR Expo Innovation Award in the category of Tools and Instruments.
PolarBox is a remote monitoring device for refrigeration installations. With measurements taken every 5 seconds and data analysis tools, the PolarBox is able to learn the normal operation of an installation in order to identify drifts and alert operators. This simplifies the management of refrigeration installations, improves their performance and drastically reduces their environmental impact. A visual dashboard capable of viewing multiple installations along with tips for improvements and reminders is available with the accompanying PolarVisor web app.
Matelex's award-winning technology for detecting early leaks and optimizing energy usage complies with the coming American Innovation in Manufacturing (AIM) regulations, offering 24/7 remote visibility to owners and technicians.
Reitz remarked:
Too many 3am emergency service calls can take a toll on any maintenance and facilities management team; fortunately, there is a new solution. I look forward to more people finding out how Matelex can help bring peace of mind by scheduling maintenance proactively, for more 3pm calls instead.
The company's thought leadership continues throughout Spring 2023, with an oral presentation at the Institute of Industrial and Systems Engineers (IISE) Conference, to be held May 20-23 in New Orleans, Louisiana. That session, selected for the conference's Sustainability Track, will be on The Role of IOT & Learning Algorithms in Decarbonizing Life Cycle Refrigeration Management. Content relates to the UN Sustainable Development Goals related to business optimization, energy use, and food security, with particular emphasis on Goal 13: Take urgent action to combat climate change and its impacts.
Reitz explained:
The world faces an unprecedented challenge as average temperature rise and many solutions to reduce carbon immersions can require high capital investments.  This presentation will provide details of a low cost impactful technology that combines iOT to reduce releases of HFC refrigerants that are up to 4000x more potent than CO2 in causing global warming.
The company is currently piloting in the U.S. and enrolling additional U.S. companies.
For more information about the PolarBox remote monitoring device and PolarVisor web app, visit Matelex.