by Brianna Crandall — June 3, 2022 —The National Electrical Manufacturers Association (NEMA) recently published its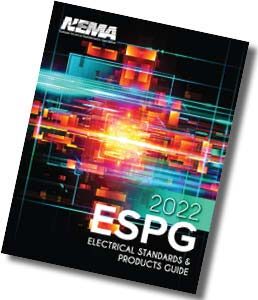 2022 Electrical Standards & Products Guide (ESPG), which is said to be the electroindustry's go-to resource for 1,000 standards and technical documents, product categories, and the manufacturers of those products. This year's edition features 20 new documents published in 2021.
Debra Phillips, NEMA president and CEO, explained:
NEMA standards continuously evolve with technological breakthroughs and innovations that improve product performance, efficiency, safety, and sustainability. They are created by teams comprised of business leaders, electrical experts, engineers, scientists, and technicians, which include regulators, NGOs, and building code officials.
From batteries, enclosures, and switchgear to lighting, motors, and medical imaging, the NEMA technical library covers millions of member products. These standards play a key part in the design, production, and distribution of products destined for national and international commerce.
The ESPG is used by buyers, specifiers, contractors and distributors. In addition to listing all NEMA publications, the ESPG provides sales contact information, by product type, for hundreds of NEMA-member electrical manufacturers.
NEMA standards are written for the military, government, and private buyers who work in architecture, construction, lighting, medical imaging, motors, industrial controls, electric power transmission and distribution, transportation, and other industries that specify and use electrical equipment.
NEMA members always receive a 20 percent discount on standards.
View the 2022 Electrical Standards & Products Guide on the NEMA website.