by Aanchal Singh: Research Analyst, Building Management Technologies, Frost & Sullivan — Every incident unfolds in unexpected ways, despite a contingent lead time; multiple things in a facility can go wrong, which can be a challenging problem to facilities managers. Sometimes facilities managers rarely receive a heads up that a disaster is ready to strike. As a result, business continuity is very significant to facilities managers and building owners to recover from any system failure or incident.
As much as business functions have become seamless, with advances in technological robustness and high dependence on cloud infrastructure, they come with associated challenges. Additionally, with greater focus on energy efficiency, there is also need to maximize facility efficiency. One of the biggest hurdles of business continuity is operational downtime. The impact of downtime across verticals varies. For example, the average cost of data center downtime across industries is approximately $7,900 per minute which is a huge expense for data center owners1. As a result, facility owners and managers, across all verticals and industries, are on top of their game to minimize the risk of downtime that can cost thousands of dollars.
According to the study from Frost & Sullivan, Smart Buildings: integration into smart grids and smart cities, research indicates that evolution of smart technologies in buildings and facilities have led to an integration and convergence of systems with the help of IT architecture, but facility owners are still quite risk averse with respect to mitigating risk2. Consequently, it becomes highly imperative for facilities to adopt preparatory mechanism that have the lowest impact on workforce productivity and budget. The downtime is usually due to reasons such as system shut down, network infrastructure issues and organizational management. In order to avoid such challenges, analyzing failures, testing and resolution implementation, and maintenance become critical operational processes that can help facilities managers recover from any unwanted failures. Hence, by adopting these stages with advanced planning and coordination, facilities managers can effectively recover from potential downtime.
The need for business continuity for facilities managers
The importance of business continuity is driven by factors that are critical to facility owners, which also can generate the highest level of risk if not adequately addressed.
Challenges of Operational Downtime
Facilities are highly dependent on the proper and consistent functioning of their grounds without any operational downtime that also includes organizational disruptions. While it is quite apparent that operational downtime in most instances is unexpected and unplanned; often, a significant portion of downtime is planned downtime such as system backups, upgrades and maintenance. The positive side is that planned disruptions are reasonably predictable and managers can have a strategic plan in place to restore operations without much loss. However, when an unplanned event occurs it is hard to accurately estimate losses. Some of the challenges often faced by facilities mangers in such instances are:
Labor Productivity: Percent of productivity loss during the outage and number of employees affected by an event.
Revenue: Direct and future revenue loss
Time dependent costs
Measuring Big Outages
Most facilities managers understand the need of having a planning mechanism in place to avoid unplanned events in a facility, but strategically, it is equally important to calculate the total cost of downtime on a facility. According to Frost & Sullivan U.S. Vertical Market Business Continuity Survey Analysis, 65 percent of respondents considered business continuity as an operational priority. This is because 74 percent of the respondents asserted that employees' productivity and efficiency along with budgetary issues are directly impacted by operational downtime. Hence, the two are intrinsically connected. To accurately measure the unplanned outages, keys steps are required to prepare and implement in case of any event. These steps should be re-evaluated on an ongoing basis as described below.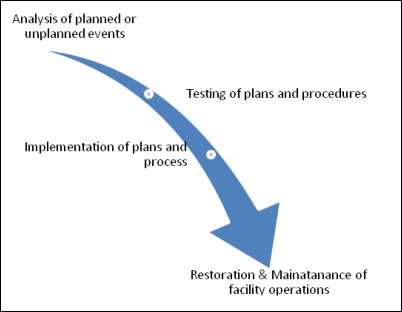 Key Step 1: Analysis
For facility owners it is important to analyze historical and current failures to calculate easily what can be expected in the near future. The mangers have to spend some time thinking about what may actually happen and plan accordingly. Managers need to keep a few questions in mind during this stage such as, "Is the system in the building repeatedly shutting down, and what are the risks associated with systems failure or network issues?" Managers can use an effective tool to calculate and analyze risk of potential disruption. The tool can help assess the probability of risk and the potential impact the disruption can have on any facility. Additionally, facilities managers are also expected to conduct real time monitoring of systems and processes. The systems installed at the facilities must therefore be monitored and evaluated to ensure maximum uptime.
Key step 2: Testing
During this stage, facilities managers may act as recovery specialists by prioritizing and running periodic tests on systems in place. This ensures facilities' operations remain viable in the long term and devoid of future outages. Hence, taking a close look at disruptions will help managers determine if a trend is occurring. Once the testing is done, it is much easier for facilities mangers to improve their resiliency capabilities. While testing, it is important to keep in mind legislative and compliance issues. In a survey conducted by Frost & Sullivan, 31 percent of the respondents conducted testing on business continuity plans once in every three months. This trend will continue to grow in the forecast period.3
Key 3: Implementation
Once the facilities manager assesses the potential threats and hazards, then it is much easier to catalog events and conditions. All business continuity processes established to mitigate risks because of downtime should then be implemented.
Key 4: Restoration & Maintenance
This stage encompasses sustaining the facility's operations. This is a key stage that requires the facilities managers to ensure that all the operations and processes are running smoothly. Thus, developing a strong understanding of people, HVAC, electrical loads and network infrastructure are crucial in determining long- and short-term recovery strategies. So once the dust is settled, facilities managers should have a flexible and analytical plan in place that provides clear and concise guidance that can seamlessly address future threats.
Facilities managers as agents of change
Challenges involved with operational outages, planned or unplanned, are an inevitable part of facilities' structure. It is an ongoing process that will require an ongoing evaluation. Therefore, it is the responsibility of facilities managers to build a strategic plan in place to protect their facility from future losses.
---
1Data center knowledge study, 2013
2Frost & Sullivan, Smart Buildings: Integration into Smart Grids and Smart Cities
3Frost & Sullivan, U.S. Vertical Market Business Continuity and Disaster Recovery Strategies