Posted by Janet Stroud — September 16, 2022 — TMA Systems has just announced the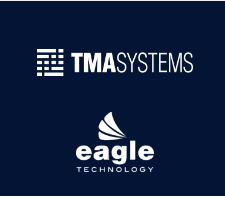 acquisition of Eagle Technology, a Wisconsin-based leader and developer of CMMS/EAM and software serving enterprise clients globally in manufacturing, distribution and warehousing, transportation and building automation sectors.
Since 1986, Eagle Technology has been providing world-class maintenance management solutions. With over 150 customers globally, they have been recognized as a top-performing company in the computerized maintenance management software (CMMS) category. Eagle Technology has several strategic integration partnerships, including Johnson Controls, Honeywell, and Microsoft.
For more than 30 years, TMA Systems has been transforming organizations by providing facility professionals with technologically advanced CMMS. TMA's innovative solutions are tailored to a variety of industries that have a desire to effectively manage their physical assets and streamline their maintenance operations. WebTMA, TMA's flagship solution, enables organizations to manage their strategic assets throughout their entire lifecycle. This proactive management provides the data that is relevant for making strategic decisions related to the acquisition, deployment, tracking, operations, maintenance, and the ultimate retirement of critical capital assets.
TMA Systems' acquisition of Eagle Technology is expected to accelerate the pace of innovation while adding greater predictive maintenance capabilities to all clients. Both companies have key Internet of Things (IoT) integrations with an expanded list of partners that facilitate real-time alert monitoring, and diagnostics on key equipment, which facilitates data-driven decisions to maximize asset life and reduce asset downtime.
TMA Systems says combining the two companies will allow them to deliver maintenance software that connects applications and facilitates robust building automation, providing effective integration for managing and maintaining equipment. With 100% Eagle Technology employee retention, TMA Systems plans to continue providing the highest-quality service to its customers.
The announcement by Mark Simner, CEO, TMA Systems, stated:
The addition of Eagle Technology's leading CMMS/EAM platform to our suite of products will allow us to better serve our customers, maintain our industry leadership, and become the most advanced maintenance solution available in the market. We are driven to be the leading CMMS/EAM platform available, and the acquisition of Eagle Technology furthers our goals of building great solutions for our customers and ensuring that we have the very best and most innovative software available in the market. This solidifies our mission of helping companies reduce maintenance costs, optimize return on assets, enhance production capacity, and improve time to value on a global scale.
For more information, visit the TMA Systems website.